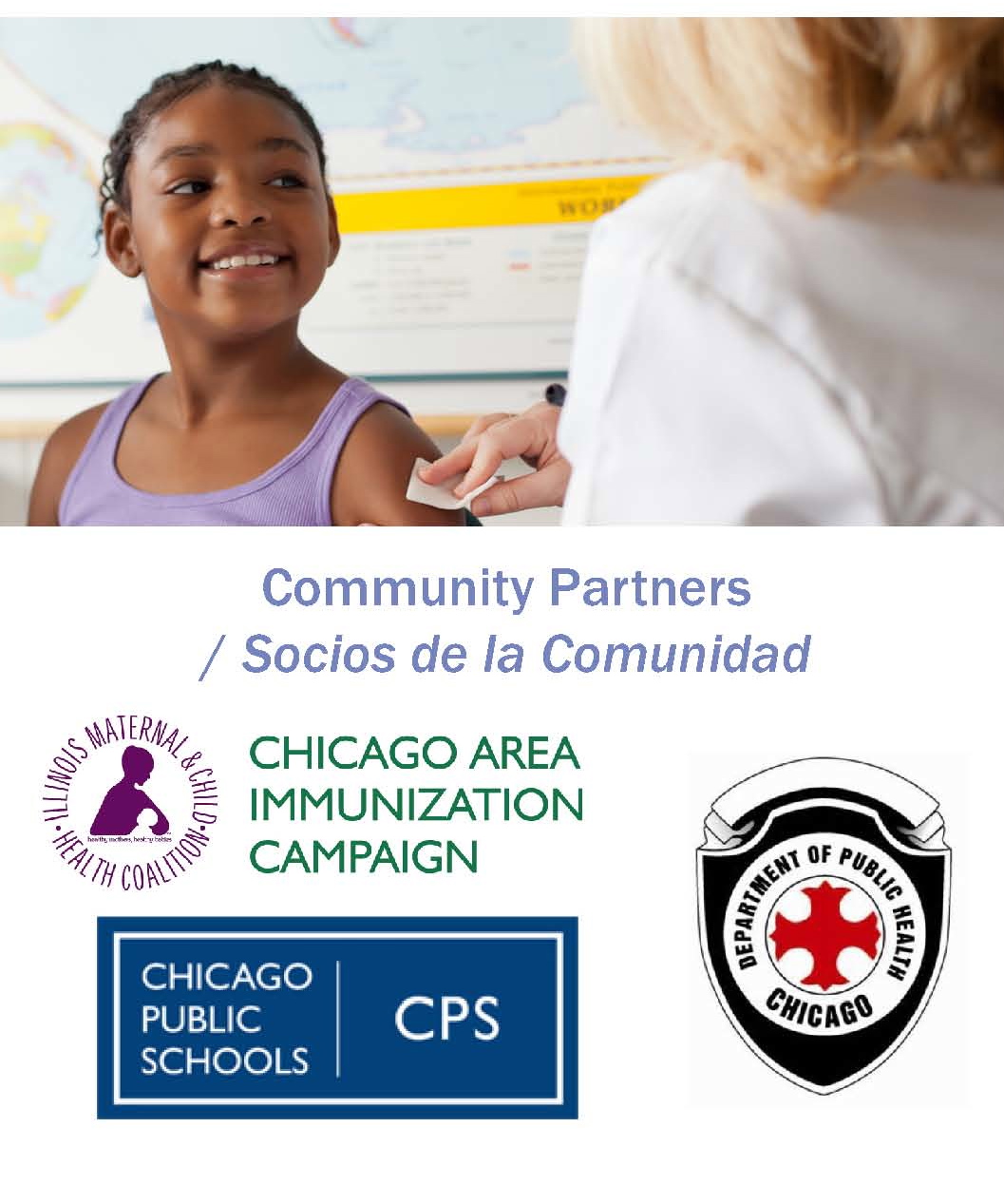 Health4Chicago is an in-school immunization program for children and adolescents, providing vaccines recommended by the Centers for Disease Control and the American Academy of Pediatrics.  / Health4Chicago es un programa de inmunización en la escuela para niños y adolescentes que proporciona vacunas recomendables de la Centro para el Control y la Prevención de Enfermedades y la Academia Americana de Pediatría.
The team is led by physicians and nursing staff specializing in pediatric infectious diseases, pediatrics, and internal medicine at the University of Chicago Medicine and the University of Illinois at Chicago Medical Center. Our team of highly skilled nurses will visit your school campus to administer vaccines.  / El equipo de inmunización está dirigido por doctores y enfermeras especializando en enfermedades infecciosas pediátricas, pediatría, y medicina interna en University of Chicago Medicine y University of Illinois at Chicago Medical Center. Nuestro equipo de enfermeras muy calificadas administra vacunas a la escuela de su hijo.
How does it work? / ¿Cómo funciona? 
Our team of nurses will come right to your school to deliver immunizations, saving you an extra trip to the doctor's office. Just complete the provided consent forms and return them to your child's teacher.  / Nuestro equipo de enfermeras vayan a la escuela a dar las inmunizaciones, y ahorra tiempo de irse a la oficina del doctor. Por favor complete el formulario de consentimiento adjunto y devuélvalo a la maestra de su niño.
Does it cost money? / ¿Cuesta dinero?
Any child uninsured or covered by Medicaid will get free vaccines from the Vaccines for Children program. For those not eligible, your insurance will be billed just like at your doctor's office.  / Niños sin seguro medico o que tienen la tarjeta medica pueden recibir vacunas gratis del programa Vacunas Para Niños. Para los niños que no califican, su seguro medico será facturado justo como si usted estaba en su oficina de su proveedor de salud medico.
Please see our Understanding Your Insurance Guide